Don't let long lead times slow down your environmental testing process. Learn more about our environmental test chambers and how we can help provide your equipment without delay.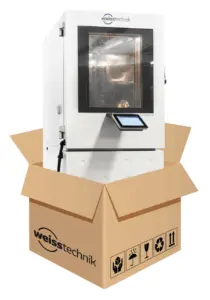 Request a link to any one of our webinars and get additional information.
See list of webinar topics below:
Learn more on EV and Lithium Batteries and the UN 38.3 Testing Standard that addresses the transport of EV and Lithium Batteries.
LEEF Technology - LOW GWP Refrigerant - AIM Act Future Proof Your Environmental Testing
See how LEEF Technology, R-449A Refrigerant and the AIM Act can help with your environmental testing. See our White Papers – Case Studies – Video and Brochures.
Weiss Technik
For a Safe Future
TS Series Thermal Shock
Test Chamber
Endurance Series Temperature & Humidity Test Chamber
Video - WP Series Walk In Test Chamber with Custom Doors
Xcel Converto
LEEF/ WEBSeason
Weiss Technik helps Eglin AFB with F-35 Lightning Jet Climatic Testing
Simpati - The multifunctional evaluation software from Weiss Technik offers optimum operation.
Weiss Technik
Environmental Simulation - Putting it to the test
Weiss Technik
Safe and high-performance Battery Testing
Weiss Technik
PharmaEvent Stability
Test Chambers
WEBSeason:
The Controller Designed by and for End-Users
Weiss Technik Walk-In Drive-In Test Chambers – For all Your Testing Demands
Weiss Technik Custom Walk In Test Chamber Featured at the Redstone US Army Test Center
Heating & Drying Ovens – Competence for your Process
Weiss Technik Custom Walk In Test Chamber Featured at the Redstone US Army Test Center
Plug & Test Lab for Battery Electrical Energy Storage Systems
Simpati On-Line - Advanced Software for your Test Chamber
Battery Test Chambers – Weiss Technik Partners w/ VW Battery Engineering Lab
EV & Battery Test Chambers from Weiss Technik
Patented Air Flow Environmental Test Chambers from Weiss Technik
WebSeason Tutorial – Environmental Test Chamber Controller
Simpati Tutorial – Environmental Test Chamber Software
Specialty Custom Test Chambers from Weiss Technik
Temperature is one of the most valuable factors affecting the quality and lifespan of many products. Temperature fluctuations can negatively impact the effectiveness and performance of products. Temperature test...
Read More >>
Weiss Technik Sustainability And Global Warming Potential (GWP) Whether it's manufacturing industrial equipment or miniature electric devices, customers want the products they buy to function reliably. Premature failure can lead to costly recalls and...
Read More >>
Weiss Technik continues to develop and expand test solutions for new approaches to electromobility The market for electric vehicles is booming. Simultaneously, new solutions are being sought to increase...
Read More >>
Low GWP (Global Warming Potential) technology is becoming a vital tool in environmental testing. One of the most interesting developments in this field is LEEF (Leading Energy Efficiency Footprint)...
Read More >>
Without industrial ovens, everything from consumer products to heavy machinery would look a lot different. These ovens make it possible to change the physical, chemical or even biological properties of materials and e.g., apply protective coatings or...
Read More >>
To thrive, your product must survive. Years of development, design, and delivery can be undone if your product can't endure extreme climate changes, tolerate intense vibrations, manage mechanical stresses,...
Read More >>
In manufacturing, product quality is paramount. The consequences of a defect can be wide-ranging, from lost sales to costly product recalls. There's also the opportunity cost of spending time rectifying the situation. Integrating environmental testing into...
Read More >>
As we have discussed previously, as part of the manufacturing industry, it is crucial to recognize that product quality is a vital part of your profitability. Quality can make...
Read More >>
Weiss Technik designs develops, and delivers high-quality battery production and battery test chamber solutions that ensure your power sources can power through harsh and challenging conditions. Our Production and...
Read More >>
Batteries have a pivotal societal role, from providing the initial power needed to start automobile engines to acting as a backup electrical source for essential services. As batteries are further...
Read More >>
"From the moment my service technician placed his order on the phone to your company until the day our part arrived our every need was met with complete satisfaction! Customer Service kindly took our order, understood the urgent need for shipping and sent the order acknowledgement promptly! I was impressed! Then I receive an email with the status of our order, that it has shipped and tracking information was included. The part arrived exactly when it was promised. Just when I think excellent customer service is a lost art I am refreshed by a company such as yourself!"
"We chose Weiss Technik North America as a partner based on their ability to provide high-quality, GMP-compatible and FDA-compliant stability testing solutions used by leading pharmaceutical companies for years. The Weiss Technik solution employs energy efficiency standards that top competing systems by as much as 50 percent, allowing us to significantly save on energy costs."
"We have coordinated several custom-built thermal-cycle chambers together with Weiss Technik. With each project they have provided quality chambers, great customer service and reliable account representatives to service your every need. Not to mention the state-of-the-art technology that helped our business become more efficient."
"We are very happy with Weiss Technik. Weiss Technik provided custom service with no fuss or reserve at all. While the chamber is yet to be started everything with the sales aspect went above and beyond expectations"
"Very happy with Weiss Technik and would gladly recommend to anyone that asks"
"This is the first Weiss Technik product that has been purchased for this location. Weiss Technik came highly recommended by their aerospace division and they are excited to begin working together. Jim was great. He made everything so easy. He was a wealth of information. They very much appreciated having him as their salesperson."
"Tom was excellent. Easy to work with and got everything he needed quickly. They have an Austrian team that is looking into a chamber now and Mike has recommended that Weiss Technik be considered"
"Weiss Technik did a great job. We appreciated the fast response"